Large format printing company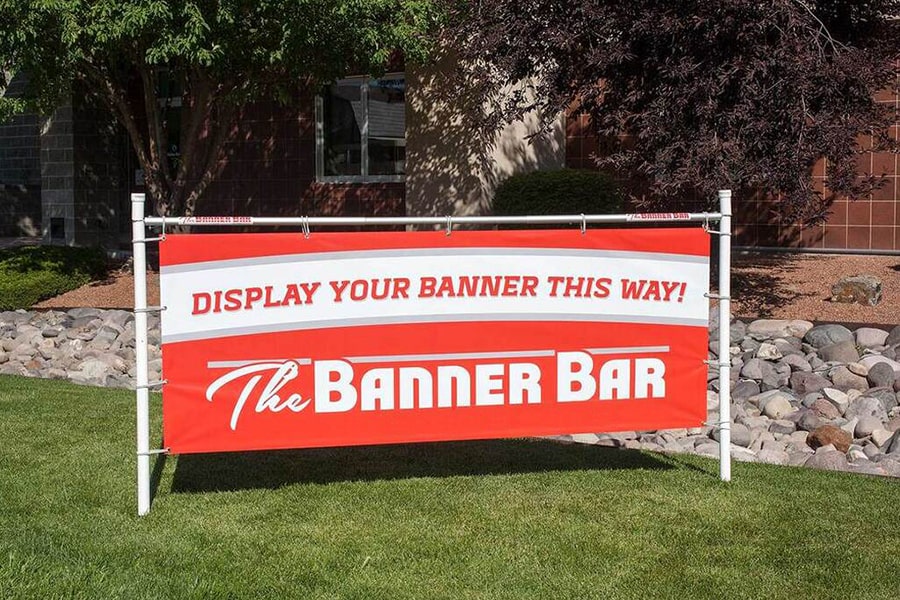 Welcome to B&W Printing services, the company who takes care of all your printing services.  Besides our favorite large format printing, we take pride of business card printing and flyer printing.
The large format printing in general and the large format posters in particular are developing strongly for advertising, communication, and decoration of outlets. When we talk about large format, we are talking about posters of more than 70x100cm and more generally posters greater than 1m2. Beware, in the case of posters suspended with an area greater than 0.5m2, it is imperative to print them on an M1 fire proof when they are suspended indoors.
Beware of the risk of tears. So choose the right thickness based on the size, attachment, lifespan and use of your large-format poster. If the format is really very large, then consider printing your large-format poster on a top quality: The large or very large format in one piece is printed on digital machines. Whether they are in latex, eco-friendly or UV inks, our print quality is very close to a photo quality:
Essential information :
for a large format printing, front-to-be print, all media are possible. Attention to the risk of tearing to pose and during its lifetime.
for a full-sided poster print, opt for a thick, opaque medium. If the format is too large, you will have to pass on 12 Point C2S
for a large, unbreakable poster, opt for soft pvc supports
BW Printing Services offers you an online service for the development on paper of your photos in large format, poster and panoramic, for your interior decoration or your exhibition. We offer a full range of standard, panoramic, square, 16:9, 4:3 or 3:2 formats suitable for your digital camera.
Thanks to inkjet technology, we print your photos and posters to the size and format you want. And all this with the guarantee of an impeccable quality of service.
Supports Marketing
We know that you spend a lot of time looking after your company's image. That's why we offer solutions to make your exhibitions and events a success.
Whether you're running a company or an association, our advertising posters and large format printing will allow you to create effective outdoor or indoor signage.
Our aluminium prints, banner stands, flags and magnets will  give you the means of elegant and easily transportable large-format communication.
Pro lounge, showroom, seminar, festivals, concerts, sports competition, our products adapt to all situations and allow you to gain notoriety, convince new customers and increase your turnover.
Wide Variety of Large format printing
The world is your canvas; so let your creativity run wild! Advertising, signage and displays are no longer limited by size. Our technology and large format printing  allow you to apply imagery at almost any size, on almost any surface at costs that are more affordable than ever! Premium-quality grand format printing produces sharp, high-resolution images and text which are clearly view-able at any distance. Suitable for everything from billboards and back-lit displays to murals and trade show signage, our prints make your ideas appear grand. Why settle, when bigger is better!
The possibilities are truly endless with large format printing.
B&W Printing services is a boutique printing company that provides offset and digital printing services as well as design services. We work with new companies, creative companies, individuals and organizations. Our great passion for printing enable us to work with a diverse clientele and produce the highest-quality print materials. It is beyond rewarding to deliver the finish product that helps our clients reach their target and desired audience.
Common types of large format printing projects include:
Glass treatments
Exhibition banners
Floor graphics
Outdoor banners
Retail barricades
Wall wraps
Building wraps
Window signage
Light pole banners
Sports graphics
Stadium banners
Museum banners
Vinyl banners
Trade show printing and more
We offer a full range of large format printing for many different types of customers, including:
Trade shows: Banners, exhibit graphics, and other display hardware
Retailers: Wall murals, wallpaper, barricades, window and surface graphics, vinyl banners
Corporations: Window films, wallpaper and murals, dimensional lettering and signs, mounted graphics, wayfinding and custom ADA signage, and hanging systems
Sports facilities: Street and pole banners, wall and elevator wraps, dimensional signage, stadium and fence banners, window films, light boxes, flags, and barricades
Transit vehicles: car magnets
Event hosts: Banners and flags, barricades, custom backdrops, street graphics, and temporary wall graphics and vehicle wraps
Popular large format printing of 2019
The coroplast – or lawn sign is our most popular and economical large format product. It is used in almost all outdoor displays for its strength and durability. Coroplast is a delicate and light material.
The foamboard – is our very economical large format product. It is used in almost all indoor displays since foam plastic cannot withstand water. The foamboard is a delicate and light material.
Aluminum Prints are printed on 0.045" thick panels and printed using dye-sublimation on a white gloss surface. This process results in outstanding image clarity and vibrancy along with excellent detail and resolution. Aluminum Prints are also extremely durable, offering scratch and abrasion resistance. Available easel stands and wall mount options are sold separately.
Car Magnets – ensure that your message is always on display with our premium quality Car Magnets! This product is printed on heavy-duty glossy material ideally suited for car door signage but can also be used on other surfaces. Use custom car magnets as temporary signs at construction sites or any other changing work environments where metal surfaces are present. Or simply drive around town with your own mobile billboard and promote your business, introduce new products & services, etc.
Adhesive Wall Graphics – They are produced with low-tack adhesive backing on 8mil vinyl. This product is ideal for use on almost all surfaces; office or bedroom walls, laptops, and glass windows. Is re-positional many times over.
Adhesive Floor Graphic – Transform high-traffic floor areas into attention-grabbing ad space with 4mil Floor Graphics. Our removable Floor Graphics are ideal for interior application on most dry, clean and untextured floors.
Our passionate team of designers will do their best to help you stand out from the crowd and reach your goals. Together we will have the best results!
Related Post